ESCP Europe & RCEM Events
The American Oil & Gas Renaissance - Reshaping World LNG Markets - the 29th January
Dear Alumni,

You're Invited: Latest on the American Oil & Gas Renaissance - Reshaping World LNG Markets on 29 January 2018 in London.
We are delighted to announce our upcoming talk on 'American Oil & Gas Renaissance - Reshaping World LNG Markets' with distinguished speaker Lucian Pugliaresi, President, Energy Policy Research Foundation, Inc. (EPRINC). The event will take place from 17:00 - 19:00 on Monday, 29th January at ESCP Europe's London Campus.

Attendees will hear the latest on:
Overview of the American Oil & Gas renaissance
Outlook for Natural Gas Production - Conventional Vs Shale
Importance of an Open Trading System for Sustaining the North American Oil & Gas Production Platform
International efforts to re-shape the World LNG markets - What are the challenges and opportunities US role and commitment to growing the global LNG market — US/Japan LNG Initiative and cooperative programme with the Institute of Energy Economics Japan (IEEJ)
The talk will be followed by a drinks reception, allowing attendees the opportunity to meet the speaker, our full-time MSc in Energy Management students, and network with other like-minded people.
Registration
Attendance is free of charge, but places are limited and allocated on a first-come, first-served basis.
To register, please click here.
Lucian Pugliaresi
Mr. Pugliaresi is President of the Energy Policy Research Foun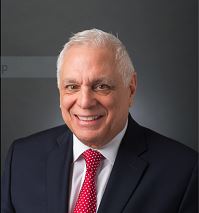 dation (EPRINC), a public policy energy think tank founded in 1944. He has led the organization's research effort on the scope and benefits of the North American petroleum renaissance. EPRINC's programs are focused on the intersection of petroleum economics and public policy. EPRINC publications on developments in U.S. and international petroleum markets are made available at the foundation's website, www.eprinc.org.
Mr.Pugliaresi has served in a wide range of government posts, including the National Security Council at the White House (Reagan Administration), Departments of State, Energy, and Interior, as well as the EPA. He has written extensively on energy and frequently testifies before various committees of the U.S. Congress.
His career in the federal government included central policy roles in the development of the Strategic Petroleum Reserve, decontrol of domestic crude oil and gasoline prices, nuclear nonproliferation, offshore oil and gas leasing on federal lands, U.S. trade policy, environmental regulations, energy security, and U.S./Soviet relations.
Mr. Pugliaresi has published extensively on petroleum topics and is a frequent contributor to the Wall Street Journal. Among some of his recent publications are "Future Oil Supplies Can Lower Prices Today," Wall Street Journal, June 2, 2011; "Lessons of the Shale Gas Revolution," Wall Street Journal, September 30, 2011; "The Keystone Debacle," Wall Street Journal, November 16, 2011; "North America's Strategic Loss: Keystone XL Pipeline and the High Cost of the American Regulatory Regime," Geopolitics of Energy, Canadian Energy Research Institute, Dec – Nov 2011. "Keystone Can Help the Gulf—and the Northeast," Wall Street Journal, January 31, 2012. "Ethanol's hidden gasoline tax," Washington Times, May 7, 2012. "Time to Rethink Renewable Fuel Rules," CNBC online, April 18, 2013. "Repeal or reform the RFS," The Hill, August 2, 2013. " Obama's Keystone pipe blockage, U.S. energy dependency is counter-progressive," The Washington Times, August 13, 2013. "Don't let protectionism strangle America's energy renaissance," The Hill, December 23, 2013. "American Perspective, Oil and Gas Development, Arctic in World Affairs, A North Pacific Dialogue, Korean Maritime Institute, 2013. "Will Latin America join petroleum's new world order?" Forum, Oxford Energy Institute, November 2014, Issue 98. "Congress' Bizarre idea to pay for health care (with L. Goldstein). Politico, July 2015. "The SPR Can Limit the Economic Harm from a Supply Disruption," Wall Street Journal, November 15, 2015. "Pruitt will reform EPA's heavy-handed regulations," The Hill, January 10, 2017. "US consumers benefit from energy integration with Mexico, Canada," The Hill, February 17, 2017. "Time to take fuel-efficiency mandates in for a checkup," The Hill, March 11, 2017.
Earlier publications include "EIS's versus the Real World," The Public Interest, 1977. (with Gene Bardach). "Policy Analysis at the Department of State: The Policy Planning Staff," Journal of Policy Analysis and Management, Summer 1989 (with Diane Berliner).
***
About EPRINC
The Energy Policy Research Foundation, Inc. (EPRINC) was founded in 1944 and is a not-for-profit organization that studies energy economics and policy issues with special emphasis on oil, natural gas, and petroleum product markets. It is known internationally for providing objective and technical analysis on a wide range of energy issues. EPRINC is funded by a variety of donors including foundations, the private sector, and the U.S. government. EPRINC publications on developments in U.S. and international petroleum are made available on our website: www.eprinc.org.
EPRINC's research is routinely presented at conferences and forums, including educational institutions. EPRINC has been a source of expertise for numerous government studies and its chairman and president have served on virtually every National Petroleum Council study of oil and gas issues. EPRINC routinely testifies before Congress and is now engaged on a long-term assessment of the economic and strategic implications of the North American petroleum renaissance.
To check the latest updates from EPRINC, please click here.
***
About ESCP Europe Business School
Established in 1819, ESCP Europe has educated generations of leaders and entrepreneurs. With its six urban campuses in Berlin, London, Madrid, Paris, Turin and Warsaw, ESCP Europe's true European identity enables the provision of a unique style of cross-cultural business education and a global perspective on international management issues. The School welcomes 4,600 students and 5,000 executives from 102 different nations every year, offering them a wide range of general management and specialised programmes (Bachelor, Masters, MBA, Executive MBA, PhD and Executive Education).
Contact
527 Finchley Road
London NW3 7BG
United Kingdom
Tel: +44 (0)20 7443 8800
Fax: +44 (0)20 7443 8845
E-mail: info@rcem.eu
Lundi 29 janvier 2018
17h00 - 19h00
ESCP Europe London Campus
527 Finchley Road,
NW3 7BG LONDON
ESCP Europe London Campus

527 Finchley Road,
NW3 7BG LONDON