Canada Group : AAGEF Ontario 24 April 2019 - Are you ready to face cyberspace risk ?
Conference on fraud risk management and governance best practices - focus on new risks" such as cybersecurity risks, data security and privacy risks, money laundering and terrorist financing, etc
Dear ESCPers,
AAGEF organises a next event about a leading French Company, which opened their Toronto Office last year.

Mazars bears the name of its original founder, Robert Mazars, who started its practice near Rouen, in Western France, in 1945. Now operating via its integrated partnership in 89 countries and territories across the globe, with over 23,000 professionals, Mazars has become a fully-fledged global player.

Martin Cloutier (Sherbrooke University) is Managing Partner of Mazars' new office in Toronto. Over the last 25 years, he has acquired great expertise in audit serving a wide range of local and international organisations.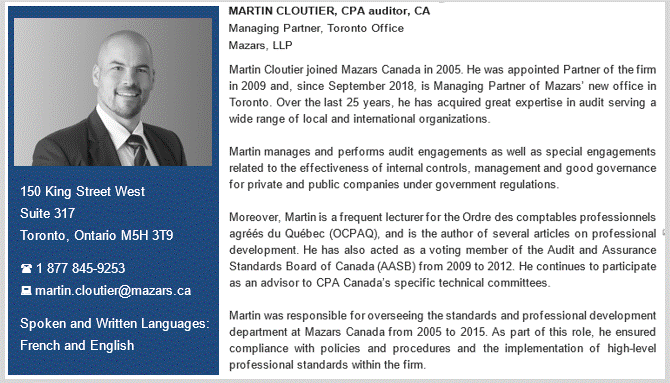 Martin will focus his presentation on fraud risk management (including various forms of fraud, cyber security issues, etc... and things to know / procedures to put in place for executives, administrators, etc.) as well as setting up a new Office in Toronto.
Agenda :
6:00 pm - Registration & Networking
7:00 pm - Keynote Speaker
8:00 pm - Networking
Details and registration at https://guestli.st/606081
Please note that, for this meeting, there is a non-refundable $20 participation fee ($25 at the door if there is any room left) to cover the renting cost of the venue and including one drink (any type). Additional drinks will be available for purchase (cash bar formula.)
Important: If for any reason you could not attend the networking event after your registration, please inform your delegate as soon as possible, as we need to have an accurate networking list and prepare the name badges accordingly.
We look forward to seeing you there,
Thank you,
Bruno Lebeault
Delegate for the North America
Wednesday 24th April 2019
06:00 PM - 08:00 PM
Bumpkins Restaurant
21 Gloucester Street
M4Y 1L8 Toronto Ontario
Bumpkins Restaurant

21 Gloucester Street
M4Y 1L8 Toronto Ontario