GERMANY GROUP - Conference at the Berlin Campus - 20 May

Dear alumni,
We have the pleasure to invite you to our panel discussion "Profit, values, purpose: What matters for future careers?" an event that will follow our Experience Day on May 20 here at the Berlin campus.
In times where attracting and retaining young talent is a priority for many organisations, it is increasingly important to gain a deeper understanding of the mindsets of young people when entering the job market. Related to this is the question of how organisations are changing themselves, in order to have younger generations identify with them, their personal values and what they stand for as an organisation.

ESCP Europe Berlin brings together a panel that will give you perspectives from the side of alumni, organisations and research's take on acquiring young talent, their expectations and motivations when choosing an employer and whether companies are changing to work with the next generation of young talents.

Moderating the panel discussion is Florian Lüdeke-Freund (Professor for Corporate Sustainability, ESCP Europe Berlin) with the following speakers:
Kerstin Alfes (Professor for Organisation and Human Resource Management, ESCP Europe Berlin)

Heidelore Castro (Head of Practice Unit Banking EMEA, SAP | ESCP Europe Alumna)

Yvonne Löwenstein (Sustainability Manager, share | ESCP Europe Alumna)

Naomi Ryland (Co-Founder & Managing Director, tbd*)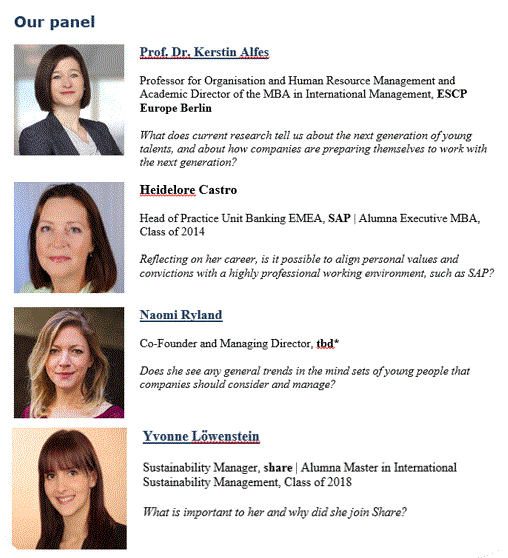 We are looking forward to seeing you!
Laurence Schwer

Manager Executive Education, Career Development
& Corporate Relations | ESCP Europe Berlin
+49 (0) 30 32007-214 | lschwer@escpeurope.eu



Note about taking pictures

Please note that photos will be taken during the event. These may be published in
various media (e.g., ESCP Europe website). If you do not agree with the publication, please contact Laurence Schwer.
Monday 20th May 2019
06:00 PM - 08:30 PM
ESCP Europe Berlin, Campus
Heubnerweg 8 -10, 14059 Berlin
, Heubnerweg 8 -10, 14059 Berlin 14059 Berlin
ESCP Europe Berlin, Campus

Heubnerweg 8 -10, 14059 Berlin
, Heubnerweg 8 -10, 14059 Berlin 14059 Berlin