North of America Group - AAGEF ONTARIO - MAY 29th
What does it mean to market Canadian Spirits today ?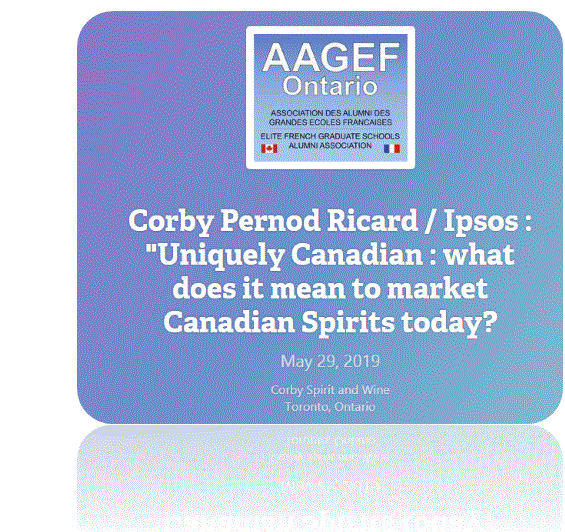 May 29 - Exceptional event at Corby Pernod Ricard - only 60 spots !
Dear ESCPers,
Exceptional event hosted at Corby Pernod Ricard with Ipsos. The theme is great for all Marketers and there will be nice surprises , that is all I can say ! Do not wait to register as capacity is limited. Registration and details at https://guestli.st/612579
.
Content
Ipsos and Corby present "Uniquely Canadian : what does it mean to market Canadian Spirits today?"
Corby Spirits and Wines, affiliated with Pernod Ricard, is a leading marketer of spirits and importer of wines. Corby's portfolio of owned brands includes some of the most renowned brands in Canada, including J.P.Wiser's Canadian Whisky, Polar Ice Vodka, Lamb's rum, McGuinness Liqueurs and since 2017 Ungava premium Canadian Gin.
Ipsos is the largest market research provider in Canada, and the 3rd largest in the world. Ipsos is passionately curious about people, markets, brands and society, and delivers information and analysis that make our complex world easier and faster to navigate.
Ungava will also present the secrets of its distinct color and unexpected taste, featuring a uniquely Canadian cocktail ("Bee's Knees") after the talk.
Presenters' Bio (please feel free to edit as required for marketing materials)
Hélène Le Person (ESSEC) – Brand Director, Corby
Hélène is 17 year CPG veteran, having spent her career in various marketing and sales positions at Unilever, Danone and now Pernod-Ricard. A curious networker who is passionate about food & innovation, Hélène will present more on Corby's business in Canada and its portfolio of brands.
Ross Hugessen (McGill University, Concordia University) – Senior Vice-President, Ipsos
Ross's passion is building great brands. Through the development of excellent client partnerships, and his expertise in brand, advertising and media assessment, Ross works collaboratively with clients to maximize their brands' potential.
Prior to joining Ipsos in 2007, Ross spent his career as a marketer of some of the best known and respected global brands. His award-winning marketing, advertising and research experience includes the successfully execution of multiple brand launches and repositioning projects for many global powerhouse brands.
In his current role, Ross works with multiple global Fortune 500 companies and top Canadian brands to help them effectively evaluate their brand communications strategies in this new era of paid, owned and earned communications.
Agenda
6:00pm : Arrivals, Start networking – Special UNGAVA Gin Bee's Knees welcome cocktail

6:30pm : Meaghan Kappel (HEC Paris) to make quick intro

6:35pm Presentation by Corby & Ipsos (20-25 min) featuring Hélène Le Person (ESSEC) and Ross Hugessen (McGill University)

7:00pm : Presenting UNGAVA - 5min

Networking with Wine and Soft (perhaps we will just present the wines, but it can be done in 2mn)
Hope to see soon,
Bruno Lebeault
Delegate for the North of America
Wednesday 29th May 2019
06:00 PM - 08:00 PM
Buvette Corby Spirit and Wine
225 King St W
M5V 3M2 Canada
Buvette Corby Spirit and Wine

225 King St W
M5V 3M2 Canada